Welcome to Kingston
Kingston is the bustling urban hub of Southeastern Ontario. Surrounded by an area of stunning natural beauty, it comes as no surprise to Kingstonians that their home continues to attract national and international attention for its exceptional beauty, livability and job opportunities.
Kingston sits at the southern edge of the Canadian Shield where Lake Ontario meets the St. Lawrence River and the Cataraqui River. Founded in 1673 as a military post, Kingston is one of Canada's oldest cities. Nicknamed the "Limestone City" because of the many picturesque limestone buildings that dot the cityscape, Kingston's storied past has been inspiring artists, writers and musicians for centuries.
The City of Kingston acknowledges that we are on the traditional homeland of the Anishinaabe, Haudenosaunee and the Huron-Wendat, and thank these nations for their care and stewardship over this shared land. Today, the City is committed to working with Indigenous peoples and all residents to pursue a united path of reconciliation.
#3 Canada's Best Small Cities
"Few Canadian cities—large or small—have the soul, the influence and the sense of place of Kingston."
#1 Best City for Students in Canada
"Kingston boasts a diverse set of strengths, which make it an ideal place to thrive as a student."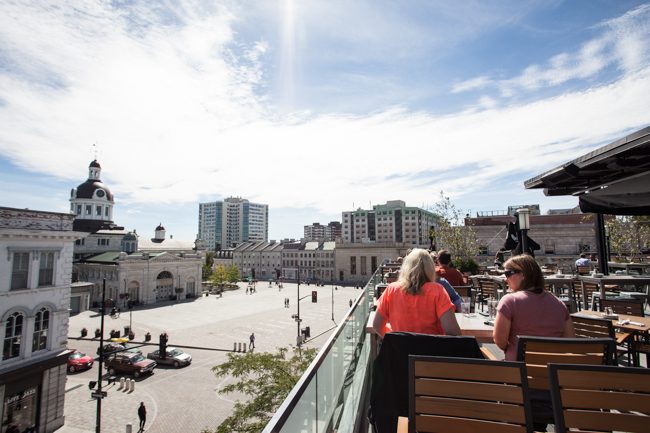 Housing prices in big cities are outpacing income, making life less sustainable. A recent poll by Genworth Canada and Royal LePage found that a significant majority of people in Toronto, Vancouver and Montreal feel anxiety around the high cost of housing.
Kingston's diverse housing market, short commute times and phenomenal quality of life make our city stand out as one of Ontario's fastest growing exurbs.
LIVE
Cost of Living Calculator
Find out how much further your money will go in Kingston.
WORK
Explore Careers
Use our AI powered Job Search Tools to find your dream job in Kingston.
LIVE
Find Your Neighborhood
Use the Find Your Neighborhood Quiz to discover where you should live in Kingston
PLAY
Interactive Map
Explore Kingston's restaurants, landmarks, parks and more with our interactive map.