Nothing is quite so authentically "Kingston" as the way summertime patios pop out on downtown's precious sidewalk real estate, infusing colour and vibrancy to the streetscape after a long, chilly winter. So, perhaps we should think of the city's other patios, its hidden, "secret" patios, as a pure bonus. They're there (we promise!) and they're secluded slices of dining heaven. If you're ready to start exploring this summer, we've got a few suggestions to get you going.
Black Dog Tavern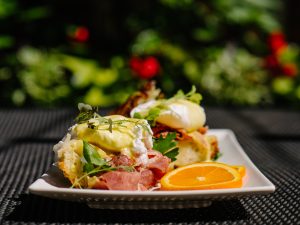 Some say you eat with your eyes first, but at Le Chien Noir's Sunday Jazz Brunch you can add your ears into the mix. It's the strains of live jazz as much as it is the deep smell of brunch cooking that beckons customers down The Carriageway off Brock Street to the restaurant's most secluded nook. Supposedly haunted, the curved stone walkway by the back patio even merits a stop on The Haunted Walk tour of downtown.
The brick patio is a bit of French bistro café style meets heritage Kingston. There are clusters of shaded small tables, tall limestone walls, and planters overflowing with red flowers and sweet potato vine.
While the classic Eggs Benedict – served with a choice of local Seed to Sausage country ham, smoked salmon, or spinach and mushrooms – is the most popular brunch item, there's no shortage of creative choices on the Sunday Jazz Brunch menu. Lunchtime fare for later risers could include traditional French Steak Frites with a starter of Fresh Oysters served with grated horseradish, or a board of local and housemade charcuterie and artisan cheese that would be a great warm-up to the Lobster Roll of black truffle lobster salad and fennel-apple slaw on a toasted bun.
The patio is open seven days a week, with live jazz on Sundays.
Amadeus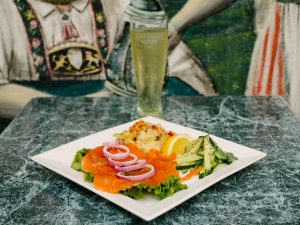 If you didn't know the back patio at Amadeus was there, you'd never be able to guess that through the restaurant and out the back door waits one of Kingston's best-kept patio secrets.
Made up of multi-level wood decking, this patio is one of the quietest, most serene outdoor eating spots in the city's downtown. The back wall of the restaurant is painted with murals showing men in lederhosen and women in dirndl hoisting overflowing steins of frothy Austrian beer. Vines drape over the fencing; umbrellas provide shade – it's hard to believe busy Princess Street is just steps away!
The traditional homestyle dishes on the menu are hearty, with lots of meat and spätzle – just what you'd expect from the regional cuisine. The chef supports local food ingredients: all pork is Ontario farmed, while other suppliers are Wallace Beef in Joyceville and Lyons Poultry Farms near Spencerville.
A cold platter appetizer of smoked salmon topped with salty capers and mild red onions, served with a side of housemade potato salad, would make lighter patio fare. Pair it with an ice-cold beer on tap or a mug of Waupoos Peach Cider, made from late-season apples and sweetened with pure peach juice.
Musiikki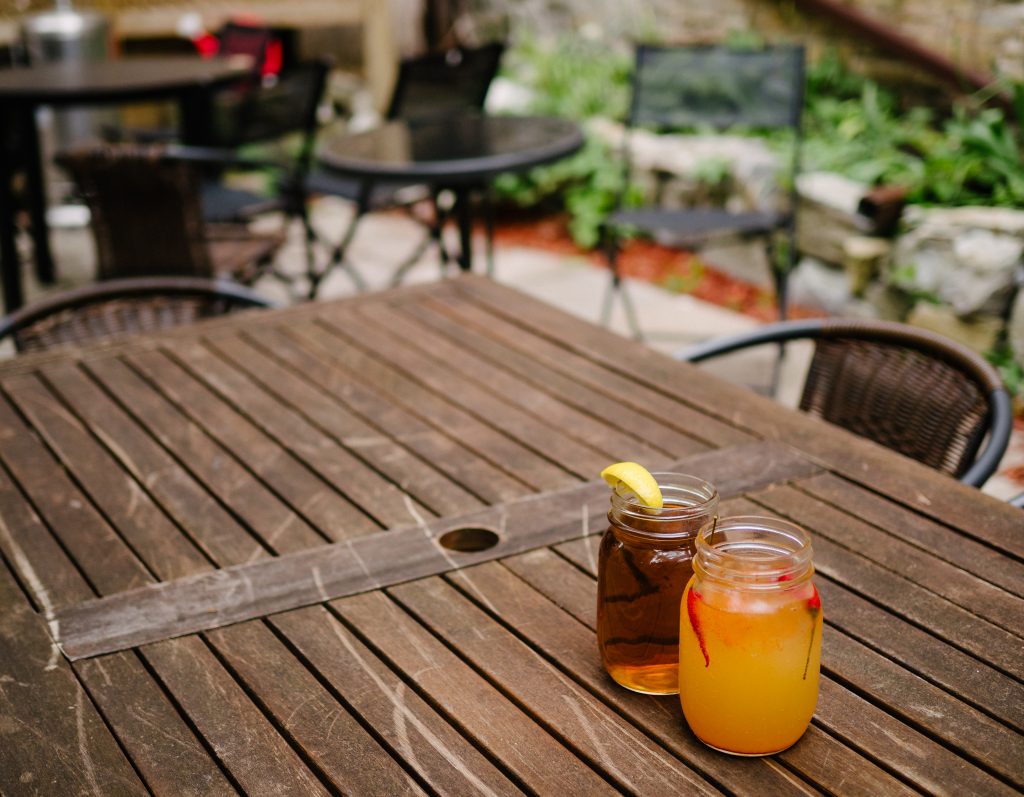 If you want a quiet drink or a creative cocktail and some live music, you head for a patio centred around the largest magnolia tree left in the downtown core.
Coffee shop by day and bar with live music by night, Musiikki's sheltered back patio is quiet and peaceful – an unexpected escape. There's a raised stage area under the canopy of branches and small tables with seating for several dozen people. The secluded feel gets a boost from the low stone-wall garden and the surrounding red brick and historic limestone walls.
Musiikki's food selection is limited – basically goods stocked by a local baker – so they practice an open-food policy where guests can bring in snacks or takeout from other eateries. The small bar is known for having the best selection of whiskies in town and for their creative cocktails. Two original recipes stand out as being perfect summertime patio fare. The Southern Belle combines Earl Grey tea and Wild Turkey bourbon with added hints of lavender, vanilla and lemon. The El Toro is a spicy but well-balanced mix of El Jimador tequila from Mexico, a honey and chipotle syrup, sours, fresh ginger, and chillies, all stirred together with ginger ale.
Chez Piggy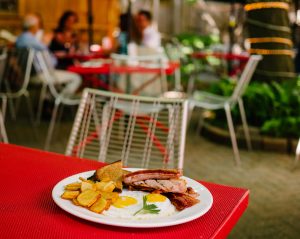 When Chez Piggy opened in 1979, the owners undertook a massive renovation, turning the charred, burned-out, circa-1808 livery stable into a restaurant with a patio in the leafy courtyard. While it may not be the best-kept "secret" in Kingston, the Piggy Patio is just enough off the main route to count as a quiet place for an afternoon drink, an evening meal or a perfect Sunday brunch.
The patio is hemmed in by the old stable stone walls and a tall privacy fence, lined with beds of flowers and the greenery of a flowering dogwood. The space catches cool breezes as well as the sounds of the City Hall clock tower. There's the whole crayon box of brightly coloured umbrellas, providing comfort in the sun-splashed courtyard.
Sunday à la carte brunch has always been a big draw – very much the original Kingston Sunday brunch hangout and a popular start to the day with a glass of Sunburst (sparkling wine and OJ) or spicy Bravo Caesars.
Chez Piggy creates from scratch, including the housemade bacon that's part of the popular Lo-Cal High-Cal Breakfast. It's a total filler, with local Reinink eggs, the bacon as well as peameal, sausages, home fries, and Red Fife toast made from Pan Chancho bread.
Don't stop there – poke around downtown Kingston and you'll find more secluded patios:
- Wooden Heads
- Pan Chancho
- Kingston Brewing Company
- The Toucan
- Lone Star
This article was originally published in Kingston Life, a bi-monthly local magazine that explores all things Kingston. For more great articles, please visit: www.kingstonlife.ca.
Help Us Serve You Better
We are collecting data to better understand who is looking for work and what kind of opportunities jobseekers are searching for. This data is completely anonymous and non-personally identifiable.
Your Age: