The fall harvest is such a gorgeous time of year with its diverse colours spreading across the countryside, prompting Kingston's culinary scene to feature an enticing array of vibrant mouth-watering offerings to match. With many of Kingston's creative culinarians layering ingredients from local farms and producers into their menus, a wide selection of seasonal items guarantee a smorgasbord of tasty delights will be discovered throughout the city. Let's dig in and see what some of Kingston's finest restaurants and chefs have cooking this fall.


Kimchi Tofu Stew + Lamb Confit Poutine at Chez Piggy
68 Princess Street, Kingston
Chez Piggy, which celebrated its 40th birthday this year, is well known for its love of world flavours, as well as their ardent support for fresh local produce, meats, and sustainably-sourced fish.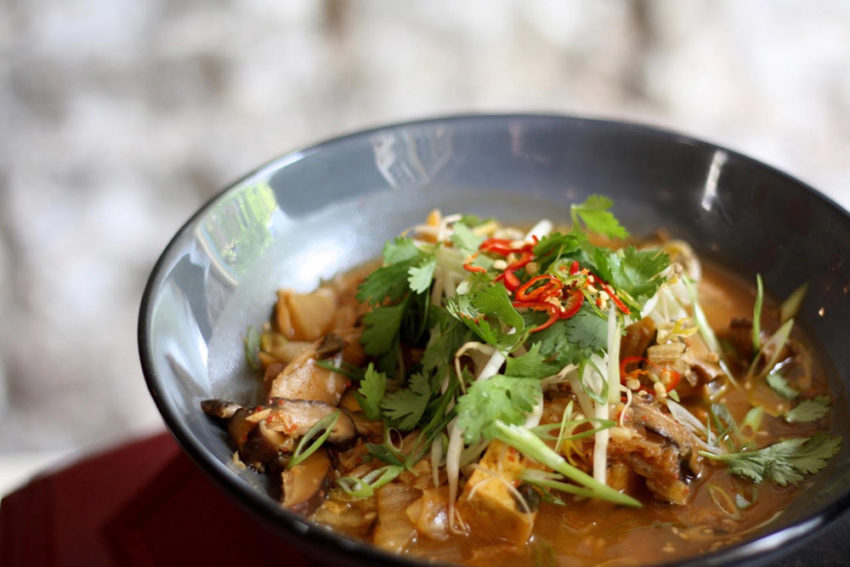 Their fall/winter menu—one of two seasonal menu flips from head chef Richard Nicholas—promises late stone-fruits, squashes and cellared root vegetables (think carrots, onions and potatoes), expertly paired with a range of proteins. Expect earthier, smokey, sweet flavours and scents throughout the fall and winter.


Seasonal mainstays like their Kimchi Tofu Stew (fried tofu, shitake and kombucha dash, kimchi, bean sprouts, daikon-gochugaru, scallions and cilantro), or Levantine Lamb (kefta spiced lamb chops with harissa chickpeas, baby kale, sumac and mint yogurt, and pomegranate molasses) are prime examples of their fall delicacies.


New menu features for this season include a hearty lamb confit poutine with lamb demi, nabulsi, pomegranate seeds/molasses, with minted yogurt and coriander, plus a Muscovy duck leg confit with roast herbed celeriac wedges, spinach and chevre purée with red peppercorn duck demi-glace.